Bildrum title page


Bildrum architecture,
(to see pictures of the real house)


Bildrum cut-outs,
(to see other cut-outs from Bildrum)

Free cut-out model to download. Build your own little paper villa.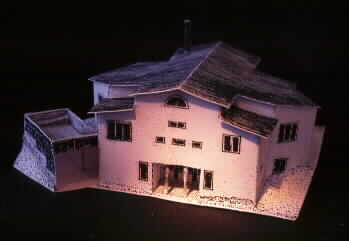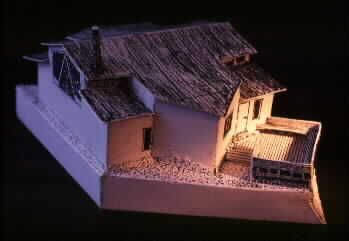 Instruction:

Clic the door to see the cut-out model. Then you can clic the drawing, press right mouse button and load down the model to your own computer. The operation will take some time. The drawing is a 343692 bytes big GIF file.
The drawing is 2427 x 2631 dots. If you print it with the resoulution 300dpi or with the measures 205,5 x 222,8 mm, you will get the drawing just inside a normal sheet of paper (dinA4) and the model in scale 1:200. Just minimize (if nessecary) margins in the printer setup.
You score folding lines before you cut the parts out and fold them after coding and legend on the drawing. (The portico opening in A should be opened with a three sided cut and the facades bending upwards.) When you are sure that parts go together, start gluing the front edge of the main part (A). The narrow piece of ground should be doubbled. Then glue the house corners together. After that the corners of the ground piece. At last, glue the bent up edges of ground to the bottom edges of the house.
Glue portico (B) together as shown. (Pillars could be rolled and glued round a needle.) The whole part is then glued to place inside the facade of the house.
Carport/balcony (C) is glued together after sketches and glued to place on (A) between house and ground.
First glue the four smaller roof parts (D and E) to their places. Then the main roof (F) and at last the rolled chimney pipe.
Don┤t hesitate to e-mail if you have any problems or meanings.
Best wishes from your architect
Gunnar SillÚn